Serbia with the Urban Birder - An exclusive Long (eared Owl) Weekend, 01-05 December 2013
Enjoy the Serbian hospitality, culture and food. Most importantly, come and have a great time! Enjoy an 5 day journey in Vojvodina, watching loads of great birds plus visit Kikinda – the best place on the planet for Long-eared Owls.

Owls, geese and cranes
With David Lindo
&
Milan Ruzic
Guaranteed departure: 01– 05 December 2013
Program itinerary:
Day 1 - Belgrade-Ečka (D)
After your arrival in Belgrade we will transfer to Ečka c66km to the north. We will be based in Hotel Kaštel in Ečka. After enjoying dinner served in the hotel restaurant we will retire for a well deserved sleep!
Day 2 - Kikinda and surroundings (BD)
After breakfast, we will depart to our first birding venue: a small town called Kikinda known as the Long-eared Owl Capital of the World. This unique town has a square which hosts the largest Long-eared Owl daytime roosting site you will ever see with up to 750 birds! We will also visit some additional Long-eared Owl roosts in the surrounding area where you will be able take amazing close range photos. Additionally, we will look for urban dwelling Short-eared Owls, Little Owls and Syrian Woodpeckers plus stop along the way for some Hen Harriers and Great Grey Shrikes.
Then, we will journey to Zrenjanin in the evening where we will have dinner in a local restaurant. Thereafter, we will return to Ečka to overnight at the hotel.
Day 3 - Bečej and environs (BD)
After breakfast, we will make our way to the second birding area and firstly visit Bačko Gradište village. There is a medium-sized Long-eared Owl roost here of up to 150 birds as well as Night Herons that have overwintered here since 2006. After seeing this village we will then go to Fantast Castle. Here we will be looking for more wintering Long-eared and Short-eared Owl as well as signs of Little and Barn Owls in the stables of a local farm. On the way from Bačko Gradište to Fantast Castle we will pass one of the largest carp fishponds in Serbia where we will look for flocks of the globally threatened Pygmy Cormorant and other wildfowl.
In the evening we will arrival in Bečej and have dinner in a local restaurant. Afterwards we will head back to the hotel in Ečka.
Day 4 - Slano Kopovo (BD)
After breakfast, we will go to Slano Kopovo nature reserve, an area of vast alkaline grasslands, shallow salty lakes and reedbeds. This is the most famous site for Common Crane migration in Serbia as it attracts up to 20,000 birds a day. Several thousand White-fronted Geese and various ducks should also be present too. Every winter several Red-breasted Geese also stop here on the way to Black Sea coast whilst there is always the possibility seeing rare Saker Falcons hunting.
We will have dinner in Novi Bečej in the evening in a local restaurant. Thereafter, it's back to Ečka for our last overnight stay.
Day 5 - Ečka – Belgrade (B)
After breakfast we will depart to Belgrade for your flight back home.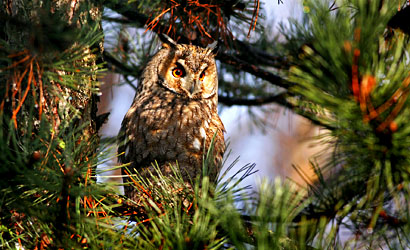 Price per person in EUR:
Price per person in EUR 525 (approx £ 425) - minimum 15 persons
Supplement for single room: EUR 50 per person
EUR 100 (approx £ 80) deposit required on booking
Price includes:
Transfer according to the program
Accommodation in Kaštel Ečka for 3 nights (1 night DB&B, 2 nights B&B – but meals in local restaurant on these nights are included)
The services of two guides during the tour
Price does not include:
Return flight to Belgrade
Drinks during the meals
Lunches
Please send us this form on: incoming@magelan.rs
For land booking contact person is Miss Tijana Žižović,
Skype: tijana.zizovic phone: +381 21 47 24 088, speaks English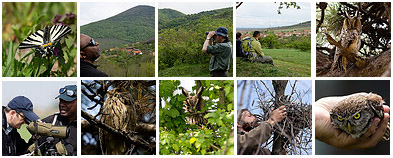 p.s. Take a look at the photo gallery by Phil Aylen with photos from the Birdwatching tour in Serbia, in April 2012.